There's been a lot written about Necker Island, Sir Richard Branson's private island home, over the years but whatever you've read, however many photos you've seen, nothing can prepare you for experiencing this island paradise in person. Trust me on this.
The reality is one of stunning beauty wherever you look, in any direction. 360 degrees of gorgeous British Virgin Island vistas, where lush green islands with white sandy beaches are dotted near and far, separated by sparkling waters ranging in colour from deep blue to iridescent turquoise. Take a walk up the steps to the roof of The Great House and luxuriate in those views. And at night it's the starscape that takes over as nature's gift to the wide-eyed traveller, because with no light pollution to speak of the constellations all come out to play; time to lie-back and marvel at the true wonders of the universe.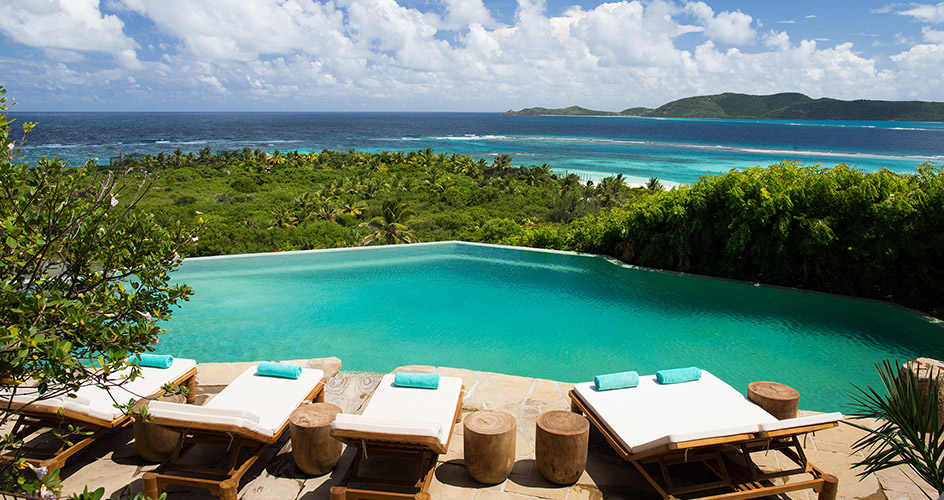 Before the star-gazing, how about a beach barbecue, all toes-in-the-sand-casual, eaten at a communal long table where stories and highlights of the day are shared between guests, to the backdrop of a flock of palest pink flamingoes wading in the shallows just behind us. And the food, ah the food… No fuss, no unnecessary complications, just simple food - sea bass, salads, lobster, chicken - done incredibly well; done to perfection in fact.
Peaceful slumbers followed in a huge double bed, draped in mosquito netting that was both practical and romantic, in a Bali House that was styled as you would expect from its name and air-conditioned if you needed it, sitting high above an open plan living space complete with gigantic television screen that I doubt anyone actually uses during their stay. Why would you, when you have the island to provide your entertainment?
Next morning I was up and out for yoga on The Great House terrace at 7:30am, cooled by pleasant breezes and stretching away the kinks and creaks of many hours in the office followed by a journey that was, admittedly, long. But hey, whoever said "you don't get to paradise on a 747" wasn't wrong; the extra flight and water transfer are well worth it when this is journey's end.
After yoga, breakfast on another terrace (there are many) with yet another stunning view that seemed to demand a photo every hour on the hour if only we had time, such was the ever-changing effect that the sun's rise had on nature's palette. Again, the long, communal table was in evidence and we mingled with other guests and were joined by our host, Sir Richard Branson, who welcomed us warmly to his home. After more delicious fare there was no time to waste and, after a quick tutorial, we headed down to the beach by zip wire!
From the beach, a golf cart tour of some of the other accommodation (secluded Temple House was my favourite) and facilities that included the most comprehensive watersports centre you could imagine, tennis courts, gym, The Beach Pavilion and yet more welcoming communal spaces. It was almost time to depart but there was one more highlight, feeding the friendly ring-tailed lemurs, who merrily jumped onto our shoulders in return for some hand-fed snacks. They're just one of three different types of lemurs who are being bred and nurtured on the island, along with many other species such as tortoises - who seemed to have the free run (or walk!) of the place - parrots and the aforementioned flamingoes to name just a few. There's no doubting that Necker Island's safe haven provides them with their paradise too.
All too soon we were standing on the dock, saying our farewells to the staff who were so friendly and welcoming it felt as though we'd known them weeks, not hours. For that's all it had been, a few short hours. 14 of them to be precise. But 14 hours in paradise.
To discover Necker Island for yourself, speak to a Travel Specialist who can create a bespoke quote, or head to the hotel's page on our website to learn more.