Think of your dream honeymoon destination and what do you see? A private island in the middle of an exotic sea? Golden sands and leaning palm trees and a place so idyllic that it seems you're on your very own deserted paradise island?
This was my vision and the dream started to come true from the moment Petit St Vincent island came into view as we crashed through the waves of the Caribbean Sea on our luxury speedboat transfer from Union Island.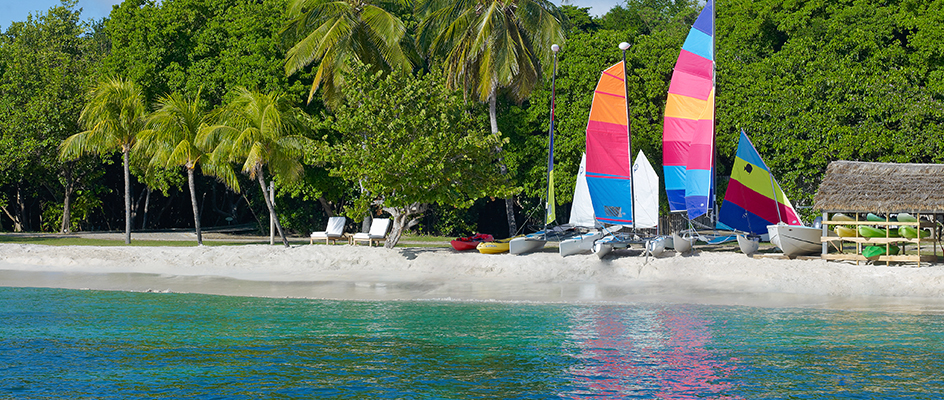 The island itself isn't in anyway the largest in the Grenadines but it stands proud, showcasing its lush vegetation across its mountainous landscape, whilst boasting a surrounding barrier of golden sands and shallow turquoise waters; perfect for that 'barefoot luxury' reputation they hold so highly. I remember so fondly a moment on that boat where my husband and I looked at each other, and even with no words, we knew that we had nailed the requirements of the honeymoon brief!
There are only 22 one and two-bedroomed cottages across the whole of the island, each boasting an open-floor plan for that villa-esque feel; a large sun bathing terrace; lounge; outdoor dining area and with the beachfront accommodations offering expansive sea views. The resort promotes a 'relax and unwind' philosophy, which means no TV, phones or internet, but Wifi can be found in the bar next to reception should you feel the need to log in to reality or check-in with home.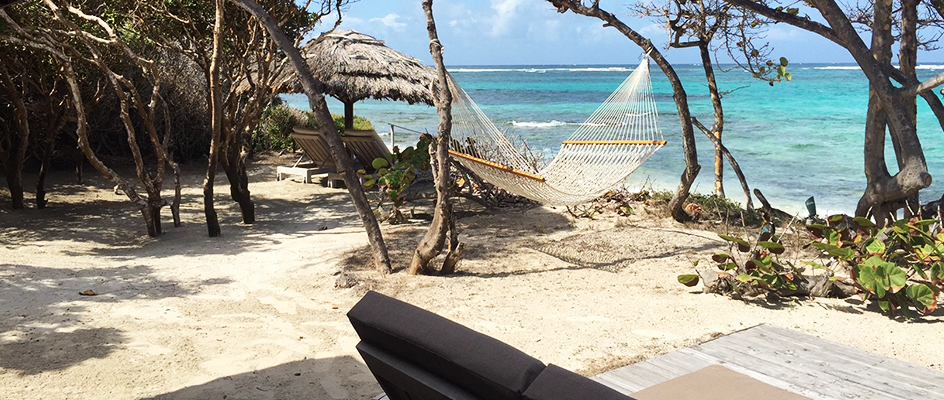 The service at Petit St Vincent is unique and first class, whilst creating a very laidback holiday style which is based around you and not when the kitchen is open! Each cottage has a flag system that is situated just outside your garden path and offers a yellow and red flag on a driftwood flag pole. Inside the cottage are service sheets, for both dining and in-cottage amenities and when you make your requests, you simply place them in the bamboo shoot and raise your yellow flag and leave the rest to the staff! Every 30 minutes the staff do a sweep of the island in mini moke's to retrieve all of the requests and put the flag back down as a sign to leave you in privacy once again! In fact, the only time you may see someone else throughout the day is when you have requested in-cottage dining and your butler arrives at your specified time to lay your table for you. Or if you really want to spend the day in total privacy then raise the red flag and enjoy the peace! And there are other dining options on the island too if you can bear to leave the luxury of your private space.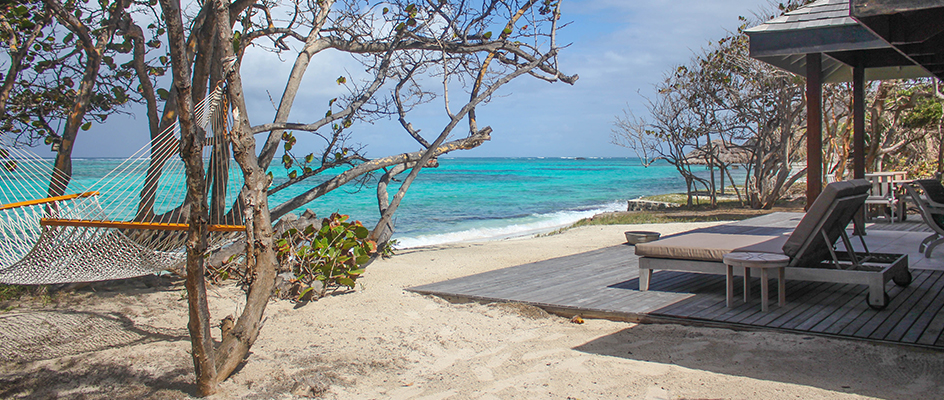 My husband and I ventured down to the beach bar for an evening of Caribbean entertainment and delicious cocktails on one evening, with General Manager Matthew and his wife attending these evenings to offer a warm welcome to the island as a 'part of their PSV family'.
During our stay we hired bicycles to roam the island and take a tour of our surrounds. We used these bikes to travel everywhere during our stay, even to the Hillside Spa and back after our relaxing and tranquil Balinese massage. But if you need a lift anywhere you just need to request the time of pick up via the cottage flag system and a member of staff will come and get you.
So yes, the stay was everything we had dreamed of….and more! If you're looking for a Robinson Crusoe-style getaway, look no further than Petit St Vincent. It was truly sensational.