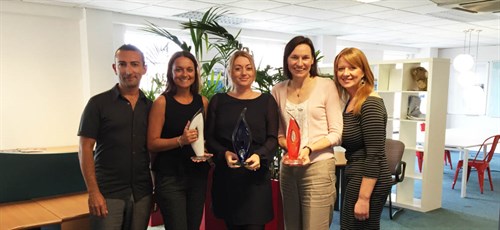 It was another night of success for the Inspiring Travel Company on Tuesday evening, when a lucky group of our staff attended an award ceremony at the Grosvenor Hotel, Chester, hosted by the British Virgin Islands Tourist Board. The event celebrated all things BVI, as well as acknowledging the work of UK tour operators to promote this stunning island nation.
We are very happy to announce that the Inspiring Travel Company won in the category "Outstanding Support of BVI Tourism"... For the third year a row! This award is given to the tour operator who has sent most clients to these beautiful shores in the previous year. Having already accepted the gong in 2013 and 2014, we believe it's our on-going passion that has kept us on the top spot!
Our Senior Product Manager for the Caribbean, Helen Tabois, has a long standing love for the British Virgin Islands, and has really championed this unspoilt corner of the Caribbean with staff and clients alike. At ITC we believe in instilling passion in each and every member of our sales team, and equipping them with as much knowledge as possible so that when you call us you know you're getting the best luxury travel advice and service there is!
One of the ways in which we ensure our on-the-ground knowledge is as up to date as possible is by sending our staff to stellar resorts all over the world. This July, Travel Specialist Julia Whittington and Platinum Account Manager Jackie Sampson visited the British Virgin Islands and were blown away.
"One thing that really stood out for me was the amazing opportunities to enjoy all things aquatic; from sailing to scuba diving!" says Julia "Everything is so unspoilt and the water is crystal clear, so it's just the ideal place for snorkelling along reefs, or simply lazing on a yacht. Another highlight was the immaculate crescent shaped beach at Rosewood Little Dix Bay, which in itself is a fantastic all-round resort. I just couldn't fault the BVIs as a destination!"
Indeed, these idyllic islands are home to some of the Caribbean's most picturesque properties, with space and luxury being bywords here. Peter Island Resort and Spa certainly has both in abundance, being located on its own lush private island - the largest of its kind in the region - with five beaches and spa spread over an impressive 10,000 square feet!
Guana Island is another world class resort offering the utmost privacy; with just 15 cottages and 4 villas set on a 850 acre beautiful island you could feel like you have the place all to yourself! And if an entire island for just you and your group sounds appealing (and you're looking for the blow-out holiday of a life time), there's always Richard Branson's Necker Island, which was featured on our travel blog back in July.
If sailing is your thing, the BVIs are also home to The Bitter End Yacht club, a luxury resort with a focus on nautical pursuits. With the largest fleet of complimentary watercraft in the entire world, this amazing property can offer guests everything from crewed yacht excursions, to children's sailing lessons!
As you can see, there are plenty of reasons to be passionate about luxury BVI holidays, and we're proud to partner with the British Virgin Islands Tourist Board to bring you the very best hospitality this Caribbean nation has to offer.
If you'd like go on your own island adventure, or simply chill out in paradise, call our Travel Specialists now on 01244 355 600 to discuss which accommodation option and setting is right for your next luxury Caribbean holiday.