After two terms in the White House, Michelle and Barack Obama are taking their first real holiday in eight years. No security briefings, no official press core, no Airforce One; just some well overdue peace and quiet!
We're not surprised to hear that they've picked Necker Island in the beautiful British Virgin Islands as one of the settings for this first escape. Owned by entrepreneur Sir Richard Branson, this truly exclusive island retreat is renowned for its privacy, outstanding service and barefoot luxury. All this in the glorious natural setting of a unique Caribbean archipelago.
Social media exploded this week after pictures of 'post-presidency' Obama sporting a backwards baseball cap and flip-flops went viral. So, what is it about Necker Island that has drawn the former First Couple to its shores? At the Inspiring Travel Company we know a thing or two about the glorious holiday destination so we thought we'd share a little of our knowledge with you…
A truly private island
Necker Island is regarded by the Branson family as their true 'home' and since they set down roots here in the 1980s the great and good have visited time and time again, not least because of the levels of privacy it offers all guests. Even Princess Diana famously holidayed there with Princes William and Harry in the early 1990s; the island was said to have been one of the only places on earth she could escape the paparazzi.
Barefoot luxury
After years of state dinners, glamourous events and high status trips abroad we expect the Obamas don't want a holiday where they have to dress for dinner. Flip-flops and jean shorts are the order of the day and the Obamas can rest assured no one will bat an eyelid on Necker Island, where meals times, activities and everything else are shaped to fit guests' requirements. So, if they want to eat breakfast in bed at noon, all they need do is ask. Though the service is relaxed and discreet, the staff to guest ratio of 3:1 (yes, we have that the right way around!) on the island means no request is too big or small.
Fun in abundance
If the Obamas are looking to let their hair down (and why wouldn't they?) there are endless options. On the Main Beach they'll find an infinity swimming pool complete with 30-seater Jacuzzi and swim-up bar. There are also 16 different watersports on offer with onsite instructors to guide them, including kite-surfing, the Hawaiian former-president's favourite new passtime if this video Richard Branson recently shared is anything to go by!
And that's just the start! Off-island excursions include snorkelling in the notoriously clear BVI waters and, should they wish, theme nights can even be arranged in the evenings.
Unending natural beauty
The British Virgin Islands are famed for their dramatic landscapes, crystal clear waters and untouched beaches, and Necker Island is no exception. With an ecological awareness at the heart of everything they do here, nature flourishes and we're sure Barack Obama will relish watching the lemurs and flamingos frolic in their natural environment. The former president famously invited David Attenborough to the White House and went trekking with Bear Grylls, so he will no doubt enjoy wandering through the lush interiors on Necker.
Romantic enclaves
Accommodation on Necker Island is truly remarkable, with the social hub being Branson's Great House. With eight bedrooms and an additional Master Suite it sleeps up to 18 guests in glorious, laid-back style. If we were Barack and Michelle Obama though, we'd opt for something totally tucked away, like one of the six Balinese-style houses dotted around the island, or perhaps Temple House and Love Temple, which boast an elevated position, infinity pool and truly incredible views.
So much more…
These are just a few aspects of Necker Island life that we think would appeal to the Obamas on their first post-presidency holiday, but if you'd like to read more on the subject, check out our blog: 10 reasons Necker Island is pure paradise!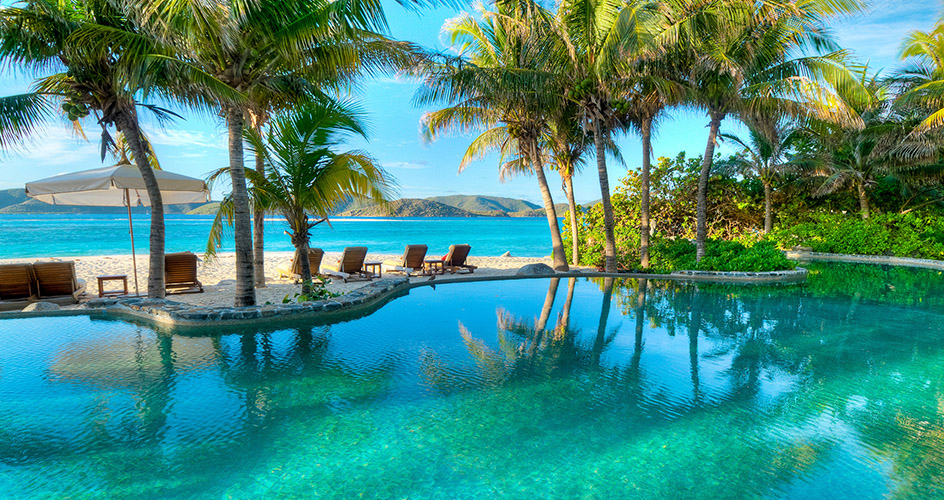 Could you holiday on Necker Island?
For the majority of the year this incredible private island is only available for exclusive hire for up to 30 guests, but there are also 'Celebration Weeks' in which you can book a room on the island and have the Necker experience without being an A-lister!
At the Inspiring Travel Company our long held partnerships with Virgin Limited Edition mean we have some great offers for 7 nights in this exclusive, all-inclusive destination during the Celebration Weeks in August, September and October 2017. Can't wait that long? There is also still some last-minute availability for 7th-16th February and 17th-28th March, when you can stay for 3 to 9 nights.
So, if you'd like to enjoy a once-in-a-lifetime experience, holiday like the Obamas and call our Travel Specialists today or fill in a quick enquiry form now!
;