Imagine no check-in or security queues, no airport announcements or last calls, add to this the ability to walk from your car through the terminal building and straight out onto your plane, and there you have it: the exceptional private jet experience I've just encountered with Skytime Jets. This was the airport but not as I know it! 
Our adventure started as we neared Manchester Airport then headed away from the sprawling terminals to a very different location. We drove up to a security box where we gave our details and to my astonishment the gates were opened and we were ushered through for our short drive to the Landmark facility; a private airport offering a very different world of air travel.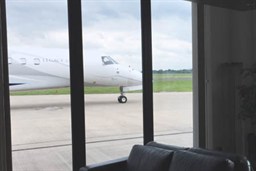 We pulled up to the door of a very unassuming building and were ushered in. Peering through to the doors opposite, a beautiful jet could be seen on the runway. We were later informed that some clients simply walk from their car to the plane, without any fuss. 
Inside the building there are two lounges with black leather sofas and television screens, where you can enjoy breathtaking runway views. Despite the comfort, guests spend very little time there, as the bonus of this mode of transport is that time at the airport can be kept to the absolute minimum. Having said this, I could have happily sat there all day watching some very famous Manchester faces flying in and out! 
It's no wonder that private air travel is the chosen mode of travel for the rich and famous. Hiring a private plane means you can choose the time and date you fly, the airports, and even the food you will enjoy on your journey. This is bespoke travel taken to another level.
In fact, flying on a private jet means you can not only choose when and where you fly, but what you fly in. There are planes to suit all journeys and group sizes. From huge planes that can take you on a long-haul adventure to the compact jet I saw at the Landmark facility, which I was told has the perfect hold for a band and as such had just been delivering some of the acts to Glastonbury! 
After a wonderful day familiarising myself with this most exclusive form of transport, I couldn't recommend it highly enough! My advice for groups looking for a flexible option or those of you seeking out an exceptional experience, possibly for a special event, is to consider hiring a private jet with Skytime Jets and take-off in style for your next luxury holiday. 
At the Inspiring Travel Company, our Travel Specialists and Concierge service can arrange every detail for you; from chartering private flights, to dinner reservations at your luxury hotel. All you need do is walk straight onto your personal plane and enjoy the view! Call us today on 01244 355 600, or use the 'chat' box below, and begin planning the journey of a lifetime.
;