Regent Seven Seas Cruises' ships are known for their service and style. So when the newest addition to its lavish fleet, the Seven Seas Explorer, claimed to be "the most luxurious ship ever built", Helen Tabois from the Inspiring Travel Company stepped aboard to see for herself.
I arrived at Rome's Civitavecchia Port excited about catching my first glimpse of the brand new Seven Seas Explorer and when I finally spotted her I was reminded immediately of one of the key benefits of "small ship" luxury cruising. Not for me one of the behemoths of the sea carrying several thousand passengers but instead, a ship that hosts just 750 travellers despite being built with a maximum capacity for almost double that number, so as to ensure a spacious environment and first class, personal service.
During the 20 years I've worked at the Inspiring Travel Company, I've been fortunate enough to experience all shapes, sizes and styles of luxury in destinations throughout the world, so when Regent Seven Seas spoke proudly of sea-borne luxury like never before, even going so far as to trademark their claim to be creating "the most luxurious ship ever built", I confess I was a touch sceptical. If you're going to set the bar that high, you really do need to deliver!
In stark contrast to the embarkation process for most cruise ships, which can see you hanging around, killing time in less than salubrious portside terminals while the ship is made ready, Regent Seven Seas guests are able to board their floating home as soon as they arrive and make use of the communal areas even before their suite is ready; sun decks, pools and restaurants are open to all.
So after leaving our luggage in the capable hands of the Seven Seas Explorer's staff, my mum and I boarded with a sense of heightening anticipation, were welcomed with a glass of Champagne, and set off to explore our home for the next few days; and it's fair to say that first impressions left us slightly in awe of the lifestyle that we'd stepped into.
Designed to exceed even the loftiest expectations for luxury, no expense has been spared with the ship's interiors, with fixtures and fittings that exude quality at every turn. Exquisite chandeliers twinkle from the ceilings and every furnishing, from the plush bedding to the thick carpets underfoot, has been chosen for its high quality. The artwork aboard includes several Picassos and my favourite was the painting of a bull which hung, appropriately, in the entrance to gourmet steak restaurant Prime 7. What fantastic attention to detail in the design and interior décor that little touch shows.
We were soon enthusing over our "room" too, which like all accommodation on board came in the form of a spacious and stylish suite with private verandah. We soon found that one of the simple pleasures of life aboard was relaxing on our verandah and taking in the ever-changing views; we even had room-service breakfast there one morning.
As the Seven Seas Explorer skirted the Italian and French coastlines, we slipped easily into the gentle rhythm of life afloat. Our blissful days were spent combining sun-drenched relaxation on the upper deck with cultural day trips and it was the utter ease of movement that was perhaps the biggest luxury of all; we explored some of the coastal highlights of three Mediterranean countries without ever having to re-pack, battle with an airport check-in or move our luggage.
It was also in relation to the many and varied destinations of our voyage itinerary that we discovered a considerable benefit of cruising with Regent Seven Seas; unlimited shore excursions are included in your holiday.
We'd booked our chosen outings in advance, using the convenient online guest registration, and were impressed with the slick organisation that saw small groups whisked away each morning and afternoon for personalised guided tours of each port of call's star attractions.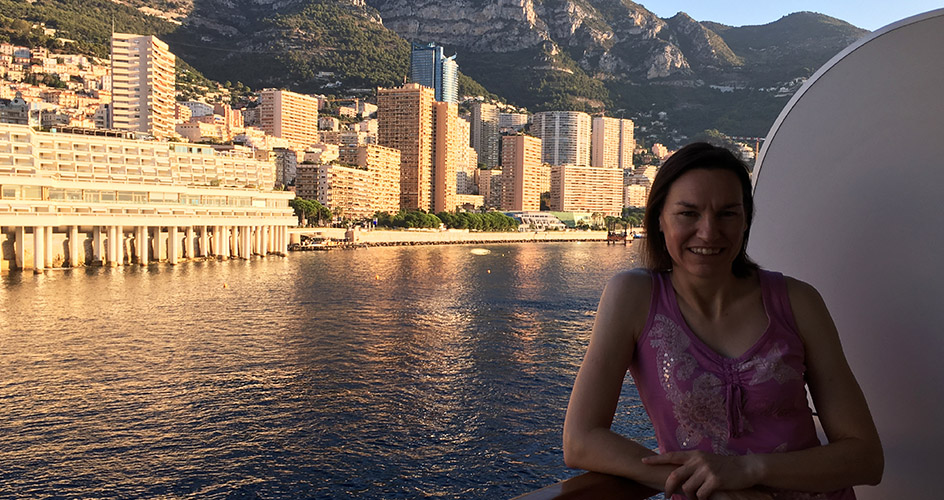 We marvelled at the Leaning Tower in Pisa whilst learning about the history of the town from our knowledgeable guide, and imagined ourselves spinning the roulette wheel in Monte Carlo's opulent casino, rubbing shoulders with film stars and royalty.
It was actually Monaco and Monte Carlo that I'd been looking forward to most from the moment I saw our voyage itinerary. I started my career at ITC Sports Travel and though I now specialise in luxury Cruise and Caribbean holidays, my passion for sports has endured. My mum is a sports fan too and I was eager to show her the iconic streets that play host each year to the most glamourous race on the Formula One calendar. It was a slightly surreal feeling to walk around the circuit, taking in the red and white grand prix corner markings that remain year round, while at the same time being passed by an everyday mix of cars, scooters and bicycles!
We'd struck lucky in that the ship was berthed so that suites on "our" side overlooked Monaco, so we made the most of our privileged position and sipped Champagne from the comfort and privacy of our verandah, watching the superyachts bob and sway in the harbour as the sun prepared to set and the lights of the principality began to glow.
It was actually a wrench that evening to drag ourselves away to dinner but although guests can opt to dine in their suites, with their meal served course by course restaurant-style, we wanted to try out each of the restaurants, all of which have been designed to showcase a very different mood and cuisine. Delectable steaks await the ravenous in the private members' club-inspired Prime 7, classic French fine-dining can be found at the chic, Parisian Chartreuse, cravings for a taste of the exotic are satisfied by the Pan-Asian creations at Pacific Rim, while the traditional Italian fare of Sette Mari can be enjoyed al fresco on deck.
An interesting twist on à la carte is provided by the customisable continental menu of the elegant Compass Rose, which allows guests to fully craft their meal from a choice of meats, fish, sauces and sides – we had fun with that one! Labelled 'the flagship restaurant of the fleet', the Compass Rose itself was a sight to behold; stylish, geometric patterns of deep, rich woods and shimmering opalescent mother of pearl and light marble stone decorate the interior. Once again, Seven Seas Explorer was exceeding our expectations.
And so it continued as our voyage progressed and the ship and her attentive crew demonstrated that every aspect of the guest experience has been meticulously considered and catered for, from the bespoke furnishings to the facilities and onboard activities available.
The variety was such that while the athletic me was able to work off the indulgences of the previous night's dinner with a visit to the gym or a scenic run round the jogging track of the top deck, my history-loving side appreciated Regent's partnership with the Smithsonian that resulted in a guest lecturer giving a talk on Spanish history as we sailed towards Palamos.
This was indeed a luxury ship to surpass all expectations. All-inclusive, all-suite, all balcony and all totally wonderful.