When it comes to venturing abroad with the kids in tow, the very prospect can be seriously daunting!
Each passing year brings a new challenge for parents, meaning that a holiday which was perfect when they were pre-school age doesn't necessarily suit when they're getting ready to leave home.
And so with that in mind, we've offered our top suggestions of luxury holiday locations to take the kids to…or not! We hope they offer a little inspiration for your next family holiday, but should you want personal, expert advice, our team of Travel Specialists (many of whom are parents themselves) are at the end of the line to offer their top tips too. Or why not order a copy of our Kids in the Med and Kids Beyond the Med brochures? The perfect bedtime reading for your luxury family holiday dreaming!

1. Babymoon
If your little one is still cooking, make the most of those precious last few months à deux with a 'babymoon' for you and your partner. Super romantic Paris is a perfect choice; with speedy travel back and forth from the UK, plenty of sight-seeing if you feel up to walking, and all those gorgeous French boutiques to stock up on treats for your bundle of joy! We love Le Bristol, which recognises just how hard pregnancy can be with its mum-to-be Prenatal Massage at its indulgent Spa Le Bristol By La Prairie. For those beyond their first trimester, this nurturing massage combines organic oils to reduce fatigue and stress, with a certified osteopath using therapeutic prenatal massage techniques to ease any discomfort. Bliss! Oh and don't forget to take a trip to Le Bar de Bristol for a tasty non-alcoholic cocktail too!


2. Newborn
Congratulations on your new arrival! Chances are that if you're a new parent you'll be reading this in the middle of the night…so let us offer you a suggestion of a chilled out escape where relaxation is the focus. Travelling with a new baby isn't the easiest, so your first holiday might be best closer to home. Hampshire's Chewton Glen is an ideal retreat; known for its spa where a post-pregnancy pamper should be high on your list of things to do. The Coach House Suites allow room for you to put baby in their cot in a quiet space, while you enjoy the 24-hour room service and that much-deserved glass of fizz to celebrate your new arrival. Babysitting can also be arranged (dependent on child's age and at an additional charge).


3. 1-year-olds

One-year-olds can be a real bundle of fun, with plenty of energy and adorably inquisitive natures. While they're still 'free to fly', why not take them on their first adventure abroad with a trip to Portugal? At the Martinhal Sagres Beach Family Resort they really have thought of everything in their 'Baby's First Beach Holiday' package. This carefully thought-out deal includes a stay in a Beach room or one-bedroom Garden House with breakfast included; a baby welcome pack including nappies, wipes and cream; a bottle warmer, sterilizer and changing mat; and two hours childcare at Raposinhos Crèche per day. What's more, your child will receive a special gift and a 'First Water Experience', while you and your other half can enjoy a spa treatment for two and a romantic dinner with 2 hours babysitting included! They really have thought of everything.


4. Toddlers
Tenerife's outstanding family-friendly resort The Ritz-Carlton, Abama is an excellent choice for toddling teenies. With year-round sunshine just a few hours' flight from the UK (and barely any time difference so you needn't worry about ruining routines), the 'Island of Eternal Spring' is an excellent choice, with the Abama offering everything couples with young children could need. Tasty, and more importantly healthy, dishes on the menu will tempt even the fussiest of tots, with all those little details considered to make your stay as easy as possible; from car seats in your transfer vehicle to a bed-guard and potty in your room. And speaking of your room, with plenty of accommodation options to choose from, you're certain to find the ideal space for you and your little one.


5. Pre-schoolers
When our CEO Jennifer Atkinson came to choose a place to holiday for her brood, she opted for Greece's Sani Resort; where her nearly two and nearly four year-olds had a whale of a time! "Sun-worshipping on a gorgeous beach with a gripping book was always high on my priority list," she says. "But travelling with children now means that 'me' time is more limited. Blissfully, Sani has a fabulous Babewatch team, offering beachside activities and childcare. After splashing in the shallows all morning, my husband and I let the Babewatch ladies take over child duties for the afternoon. Sinking back into our lounge chairs, we were able to enjoy a cocktail together in the sun. All the while, we could see that our little ones were happy and being professionally looked after."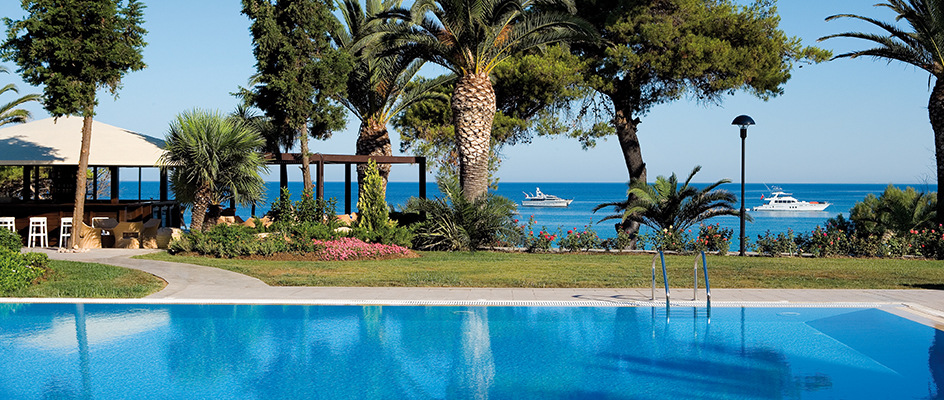 6. Five to 10-year-olds
A real family favourite, and a place you perhaps won't have thought of, is the outstanding Borgo Egnazia in Italy. This resort has a very grown-up, elegant feel, yet caters very thoughtfully for younger guests too. The Trullalleri Kid's Club is filled with activities for kids to get creative, with cooking classes, story-telling, face-painting and treasure hunts to name a few. Bicycle rides in the stunning countryside surrounding the resort are a favoured way for families to spend time together, with the watersports and swimming pools tempting water babies to take a dip. An indoor pool ensures that whenever you visit they can still dive in. Villas offer plenty of space for families to spread out, and a real highlight is Da Puccetta; a very special restaurant for small guests only with a healthy buffet and child-sized furniture.


7. Tweens
Now they're old enough for a long-haul flight with ease, and time difference doesn't make, well, too much difference, why not look for your luxury family holiday somewhere exotic…like the spectacular Maldives resort of Soneva Fushi. Hidden away in the tropical foliage of Baa Atoll's UNESCO Biosphere Reserve, Soneva Fushi defines the essence of barefoot luxury. But this sanctuary is not reserved just for grownups –the all-villa resort is a paradise for kids too, with family dolphin cruises, movie nights and children's cooking classes. The Den is the resort's complimentary new kid-zone and playground for the imagination with its own pools and waterslides and swim-up mocktail bar. Teen-only movie nights and pool parties are put on for those over 13, with pre-teens loving the 'Dress-up & Make-up' room.


8. Teens
Take them away from the stresses of exams and the pressures of social media with a family holiday to Dubai, where Atlantis The Palm has everything on site for teens to enjoy their freedom in a safe environment. With its game zone, internet café, entertainment lounges and mocktail bar, you'll struggle to drag them away from the resort's dedicated teen-area, Club Rush. But when you do, there's the Aquaventure waterpark for family fun, a swim-with-dolphins lagoon, diving and an aquarium. Celebrating a special teen birthday while you're in Dubai? Then head to the Atlantis's award-winning Ossiano seafood restaurant with its floor-to-ceiling aquarium views. Our ITC Concierge can even arrange for a diver to swim through the aquarium with a special birthday message!


9. Multi-generational
Holidaying with grandparents, aunts, uncles and cousins, can be a wonderful way to make memories to cherish, enjoy family celebrations together or simply share the childcare. This kind of holiday not only requires space, but plenty of facilities on site to suit the differing ages and needs of your party. Ticking every box has to be Jumby Bay, A Rosewood Resort on its very own island off Antigua. Younger guests will love the kids' club, Hawksbill Turtle Programme, watersports, bikes and tennis clinics, while grownups can leave them under the safe care of a babysitter while they head to the resort's recently refurbished Estate House for an evening of fine dining and cocktails. A huge variety of accommodation sizes are available, from intimate 1-bedroom suites to vast, spacious villas. What's more, Jumby Island has no roads or vehicles so parents can safely let children wander and explore; with bicycles to get around the resort, or golf carts for those less able.


10. Ski-ers

Of course you may be in the very lucky position of thinking about travelling as a couple again now that the kids have flown the nest?! Skiers, (Spending the Kids' Inheritance) is a relatively new term coined by the media for those couples spending their savings or pension on amazing experiences. If you fall into this category and are seeking a super-indulgent child-free holiday, let us suggest the new Crystal Esprit. This boutique hotel on water has just 62 suites, each with butler service, and offers a space of ultimate luxury where fine dining and luxurious details are part and parcel of every stay. From November Crystal Esprit will be sailing around the islands of the West Indies on two 7-night routes; the 'British Virgin Islands & Saint-Barthélemy Yachting Escape' which includes an overnight stay on Peter Island, and the 'West Indies Yachting Explorer', which will stop in Antigua among other islands. A fabulous way to celebrate the rebirth of your couple's holidays!
For all your luxury travel needs, speak to one of our specialists on 01244 355 600.