A Barbados luxury holiday offers many unforgettable experiences, and dining out is chief among them.
This exclusive Caribbean island is famous for its fantastic restaurants and culinary flair. At the Inspiring Travel Company, we know Barbados better than anyone else, having sent clients here for more than four decades.

Many of our staff take their annual holidays on the West Coast and we even have a dedicated Barbados office on the island. So, when it comes to firsthand knowledge, we really are the experts.
[Check out The Essential Guide to Barbados for our ITC insight]
From fine dining to open-air fish fries, there really is something to suit every taste on this sunny island. So we thought we'd offer ten of our top Barbados restaurants and eateries to tempt your taste buds on the Caribbean island. Our Concierge team can arrange reservations and transfers; as well as suggesting alternatives should something different take your fancy.
1. Camelot Restaurant, Cobblers Cove
Cobblers Cove is an all-suite, boutique hotel with a focus on culinary excellence. Foodies flock to the award-winning Camelot Restaurant, where they can enjoy the menu of Executive Chef Jason Joseph, who serves up tasty dishes including the catch of the day from local fisherman Barker. 

Not to be missed is the Tuesday evening barbecue at the hotel, while Camelot hosts a special Seaford & Caviar menu on Friday nights. 
2. Cin Cin By The Sea
A favourite on the Bajan foodie scene, this stunningly located restaurant offers both indoor and al fresco dining, with all patrons enjoying uninterrupted views of Caribbean Sea.

Here you can relish European-inspired fare, with signature Caribbean flavours. Fresh fish and seafood dishes are abundant, as well as tempting classics such as steak frites and beef carpaccio. Plus, Cin Cin By The Sea's location on the West Coast means it's within easy reach of many of the very best Barbados hotels.
3. The Lone Star
The Lone Star is an iconic eatery and boutique hotel which was nicknamed "the Ivy of the Caribbean" by the late Michael Winner. Upon entering this 1950s-chic setting you really do feel like a movie star, enjoying stellar service and views of the white-sand beach just metres away.

The menu here largely comprises mouth-watering Italian fare, including wood-fired pizza at lunchtime, alongside some 'Lone Star Classics' such as homemade shepherd's pie. Unusually for such an illustrious eatery The Lone Star carry a 'Little Stars' menu for children, with sure fire hits like fish fingers and chips! We can't think of a better location for an extra special lunch on a luxury family holiday. Sunday Lunch is a Lone Star speciality.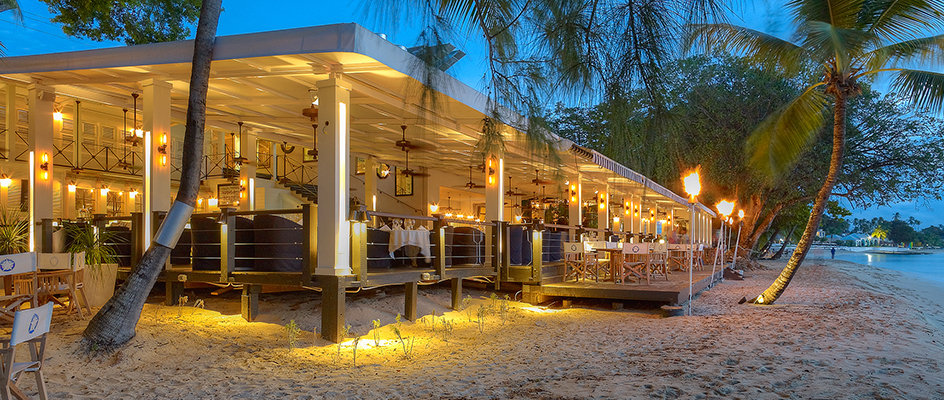 4. The Cliff
This world-renowned restaurant has more than earned its legendary status over the years, with an exclusive Platinum Coast location and truly incredible food. For a special evening out on your luxury Barbados holiday, dinner here is a fantastic option. Though tables are in high demand our Concierge team can pre-book for you in advance of your trip, guaranteeing you won't be disappointed.

If you're looking for the quality of The Cliff with a more informal feel, the recently opened sister-property The Beach Club by the Cliff offers fine fare on the beachfront. Experience laidback luxury with a view, cocktail in hand and a delicious club sandwich of lobster, avocado and truffle…yum!
5. L'Acajou, Sandy Lane
Sandy Lane has long been a favourite haunt for the rich and famous. Some of our most discerning customers return again and again to enjoy its glorious platinum sands, impeccable service and delicious fine dining. Among its culinary offerings is à la carte dining at signature restaurant L'Acajou.

Tables are scattered around a spacious, columned terrace with views out to sea, lending an incredibly romantic atmosphere. Exquisite modern European cuisine is offered here, which can be enjoyed along with an impressive wine list and the legendry Caribbean sunset. Buffet brunches at Bajan Blue on the beach each Sunday are also renowned on the island and beyond.
6. Daphne's
Daphne's is another exceptional platinum coast stalwart. Patrons at the elegant restaurant enjoy a refined setting and beachfront location. Food here is a fusion of modern Italian and island seafood flavours. Ask our Concierge to book you a table in advance; this place is popular!

Those lucky enough to be enjoying a stay in the exclusive environs of The House by Elegant Hotels will be thrilled to learn that Daphne's caters for The House's famed themed nights. From the Bajan Dinner beach buffet to Fisherman's Night buffet, you won't be disappointed by these tantalising offerings from Chef Marco Festini Cromer.
7. The Fish Pot, Little Good Harbour
This charming family-run Barbados hotel and its celebrated restaurant are hidden away on the island's north-west coast, making it a tranquil spot to enjoy a meal. It's worth making a trip up here - perhaps combined with a visit to Speightstown - for a lunch or dinner on the charming terrace, right at the water's edge.
As you may guess from the name, fresh seafood features prominently, as do local ingredients on the whole. Simple yet exquisite flavours are always on the menu. We recommend the lobster ravioli!
8. 13°/59°, Port Ferdinand
One of the island's newest fine-dining restaurants, 13°/59° is located within the luxury complex Port Ferdinand. There is a focus on local, seasonal ingredients here, which make for an innovative and evolving modern menu including dishes including spiny lobster and Mount Gay rum and raisin ice cream.

Our Travel Specialists recommend the Sunday Brunch, and our Concierge team can arrange a celebration cake if you're heading to 13°/59° to mark a special occasion.
9. Colony Club by Elegant Hotels
At this luxury Barbados hotel there is a host of activities to delight foodies. You can embark on a fishing trip and have the chef cook your catch for dinner, or enjoy a kitchen garden tour and cookery demonstration. Dining at Laguna restaurant is always a delight, but perhaps the highlight at the Colony Club is the Lobster and Jazz dinner, which happens right on the beach every Thursday. Live music and fresh lobster under the Caribbean skies, does it get any better?
10. Oistins Fish Fry
Though not technically a restaurant, you can't talk about dining in Barbados without mentioning Oistins Fish Fry. Oistins is a fishing town on the Bajan south coast and a fantastic place to visit on the weekend. On Friday night in particular, Oistins Bay Gardens host a 'fish fry'; an informal outdoor grill using the freshest of Bajan ingredients all cooked right in front of you.

Whether you prefer lobster, swordfish or even chicken, you'll find a vendor who'll pile your plate high with delicious fare. Then just find a spot to eat your food whilst listening to the music and taking in the dynamic atmosphere. Many hotels run shuttles or even boat transfers to Oistins; it really is a Barbados 'must do'. Best of all, it will usually cost less than £10 per head!
Call our Travel Specialists - most of whom have visited the island at least once - on 01244 355 600 to discuss the perfect setting for your own luxury Barbados holiday, or check out our Essential Guide to Barbados for more expert insight into this coveted Caribbean holiday destination.
;