Jumeirah Beach Hotel
Jumeirah Beach Hotel encompasses the concept of luxury seaside living, setting a new standard of style for hotels in Dubai. Set on the shores of the Arabian Gulf and built to emulate a breaking wave, this luxuriously appointed resort promises 'extravagance every day, delivered your way!'
Lounge on your private terrace as you enjoy in-villa afternoon tea with stunning views of the sapphire-blue Arabian Gulf, or wander along the beachfront at dusk as the striking Dubai skyline lights up. With its own private crescent-shaped beach and a choice of land and watersports to suit all, this is the perfect setting to explore the riches of land and sea in utter sophistication.
Evenings can be spent at one of the 19 magnificent restaurants with options to satisfy all moods and tastes, before heading to some of Dubai's most famous night-time hotspots that beckon guests with their relaxed, casual ambience.
Jumeirah Beach Hotel Dubai welcomes guests with a wide range of exclusive facilities, from its six swimming pools to its brilliant shops, Premium Leisure Club for families and Club Executive for adults. There is also a Business Centre and free online Pressreader of over 2000 publications for those who wish to keep in-the-loop throughout their stay.
Fusing a rich heritage of style from the Middle East with all of the most cutting-edge features, including a state-of-the-art fitness centre and spa, and complimentary access to the exhilarating Wild Wadi Water Park, this is the ultimate luxury Dubai holiday for families and couples alike.
Each of Jumeirah Beach Hotel's 618 rooms, suites and villas are luxuriously furnished and provide incredible views of the Arabian Gulf. The accommodation is uniquely conceptualised around the four elements of nature – earth, air, fire and water. 
Ocean Club Deluxe/Premium Leisure Club room
Ocean Club Deluxe Rooms feature all of these fantastic amenities, with the added bonus of access to the (Adults Only) Executive Club Lounge. Ocean Premium Leisure Rooms also include access Premium Leisure Lounge, a family-orientated suite with a computer game area and children's library.
Sleeps:
2 Adults, 2 Children.
Beachcomber Suite
Located at garden level, the stylish Beachcomber Suites are specially designed for families with a second bedroom designed for young children and feature a separate living room for catching up on quality time.
Sleeps:
2 Adults, 3 Children.
Ocean Junior Suite
Ocean Junior Suites are almost twice the size of the rooms and offer a serene private balcony. Junior Suite guests enjoy access to the Executive Club and Premium Leisure Lounges.
Sleeps:
2 Adults, 2 Children.
Ocean Deluxe room
These spacious ocean-facing rooms enjoy a spacious sitting area and large bathroom with bath and walk-in shower. Some rooms offer sofabeds accommodating up to two children. A few (lower floor) rooms have their own private balcony to relax and enjoy the view - supplement applies.
Sleeps:
2 Adults, 2 Children.
1/2/3 Bedroom Ocean Suites
Each Ocean Suite offers a spacious, all-encompassing retreat, with a balcony or terrace giving sweeping sea views, and separate bedroom(s) and living room for entertaining.
Sleeps:
6 Adults, 2 Children.
Ocean Superior Suite
Ocean Superior Suites boast 50 square metres of beautifully-refurbished space. These ambient suites enjoy uninterrupted views of the Burj Al Arab Jumeirah, the pristine private beach and glistening Arabian Gulf from the floor to ceiling windows. Many also include a balcony.
Sleeps:
2 Adults, 2 Children.
2 Bedroom Superior Suite
The two Bedroom Superior Suite boasts immense views of Burj Al Arab Jumeirah, Wild Wadi Waterpark™ and the azure seas of the Arabian Gulf from the spacious sun terrace. Retreat into 160 square metres of living space evoking the elements of nature, or head to the family-oriented Premium Leisure Club or The Club Executive (for adult guests only) for an exclusive experience.
Presidential Suite
Presidential Suites are uniquely location at the wings of the hotel, offering sweeping views of the Burj Al Arab Jumeirah, the private beach and Arabian Gulf. Relax in a spacious, sumptuously-furnished bedroom or spend the evening in the privacy of your very own sun terrace.
Beit Al Bahar 1 or 2 Bedroom Royal Villa
The phenomenal Beit Al Bahar One or Two Bedroom Royal Villas offer a private terrace and plunge pool overlooking a private garden or panoramic views of the Arabian Gulf. With chic Middle-Eastern decor, enjoy a separated bedroom and comfortable living room with dining table. Your every need is attended with a 24 hour dedicated butler service, plus complimentary daily in-villa breakfast and afternoon tea.
Take advantage of the 19 restaurants and 4 bars at Jumeirah Beach Hotel, each offering a unique culinary experience.
La Parrilla
La Parrilla serves authentic Latin American cuisine with live entertainment and stunning views. Enjoy perfectly-grilled meats in an alternative dining destination in a 25th-floor vantage point.
Carnevale
Carnevale shares a passion for authentic Italian cuisine with guests, offering classic pasta and pizza dishes with the charm you might find in a bustling Milanese Tratorria or Roman café.
Der Keller
Set among the striking décor of red brick arches, wine barrels and solid oak furniture, Der Keller shares a wonderful array of sizzling German meats and side dishes.
Palm Court
Afternoon tea is one of Dubai's time-honoured tradition, and guests can enjoy it with particular flair at the recently refurbished Palm Court Lobby Lounge.
Talise Fuel
The healthy choice never tasted so good. Talise Fuel serves a mouth-watering selection of carefully crafted dishes to create healthy, flavoursome meals.
Latitude Creations
Stop by for a morning pastry with a difference at Latitude Creations bakery. Savour handcrafted cakes, unique desserts and freshly baked bread.
360°
One of Dubai's most popular bars, 360° encompasses the cosmopolitan identity of new Dubai in an iconic party venue for residents and visitors alike.
There are endless facilities available at Jumeirah Beach Resort that promise to make your holiday very special indeed.
Watersports
The hotel's prime position on the Jumeirah Beach waterfront makes it the perfect destination for watersports fans. With over 900 metres of private beach to explore, guests can enjoy a range of complimentary watersports, from windsurfing and waterskiing to kayaking, stand-up paddleboarding and even banana boat rides. Alternatively, for those who prefer a more leisurely experience, try deep sea fishing or hire a luxury motor yacht cruise.
Wild Wadi Water Park
Guests can enjoy free access to the fantastic Wild Wadi Water Park, which offers a whole world of aquatic fun for families. Whether you want to relax on the waves of Flood River or the serene Juha's Journey river or seek a thrill in Tantrum Alley and Burj Surj, there's something for everyone here. Try Wipeout and Riptide Flowriders for the ultimate surfing experience - one of just four in the world - or take the little ones to Wild Wadi, with its racing slides and water guns.
Sea Turtle Rehabilitation
Dubai is home to the Hawksbill turtle, a critically endangered turtle which the local Dubai Turtle Rehabilitation Project attempts to support. Since 2004, the organisation has released over 560 rescued sea turtles back into Dubai's waters and welcomes guests to visit and see the amazing work they do first-hand.
Art
Head down to the beach to see a truly unusual phenomenon carved in the sand. Artist Nathaniel Alapide, creates stunning images and replicas of famous paintings using nothing but a garden rake. Guests can also enjoy a complimentary sand art lesson to create their own designs.
Whatever you need during your stay, Jumeirah Beach Hotel's extensive facilities will be on hand.
Sports Facilities
A wide range of sporting facilities are available at the Jumeirah Beach Hotel for guests of all ages and abilities. Kids will love a trip to the indoor climbing wall, which offers 6 vertical metres of thrilling climbing, attended by expert instructors. Alternatively, head to the resort's 7 championship-standard floodlit tennis courts to enjoy a game with family, or take a private or group lesson from the famous Peter Burwash International (PBI) academy. Squash courts are also available for those who prefer an indoor game.
Golf
For Jumeriah Beach Hotel guests who enjoy an afternoon spent by the holes, the resort offers an exclusive partnership with Troon, the world's leading international network of high-end golf clubs, to provide 25% savings on golf fees at a choice of eight courses across the UAE. Whether you feel inspired by the oceanic views from Saadiyat Beach Golf Club or the desert-landscape inspired Els Club, golfers of all levels will love the prime golfing in Dubai.
Talise Fitness
Talise Fitness Centre is set in a stunning seaside location and has a reputation for being the best sports club in Dubai. Its unparalleled array of facilities and services includes fitness, aerobics, cardio, weights and one-to-one training with expert coaches.
Talise Spa
Visit Talise Spa to unwind and refresh body and soul. With its two saunas, two massage rooms, three hot tubs, a Jacuzzi, a steam room and a plunge pool, there's plenty to help you relax. The spa's professional practitioners offer a range of massage treatments and facials, such as Aromatherapy, Reflexology, Shiatsu, Swedish and Sports, available to soothe, stimulate, rest and refresh.
Sinbad's Kids' Club
The resort's Sinbad's Kids' Club features a diverse programme of activities for children. As they step into an amazing play space inspired by the underwater world, they will see colourful tropical fish, find a submarine to explore, spot a whale, enjoy a soft play area, splash about on slides and then maybe catch a movie. There is something for all ages, from free play to activities including aqua fun, face painting, crafts and sports for the bigger kids.
The hotel is located at Jumeirah Beach, a 20 minute transfer from Dubai International Airport.
×
1/12
Jumeirah Beach Hotel, Dubai
2/12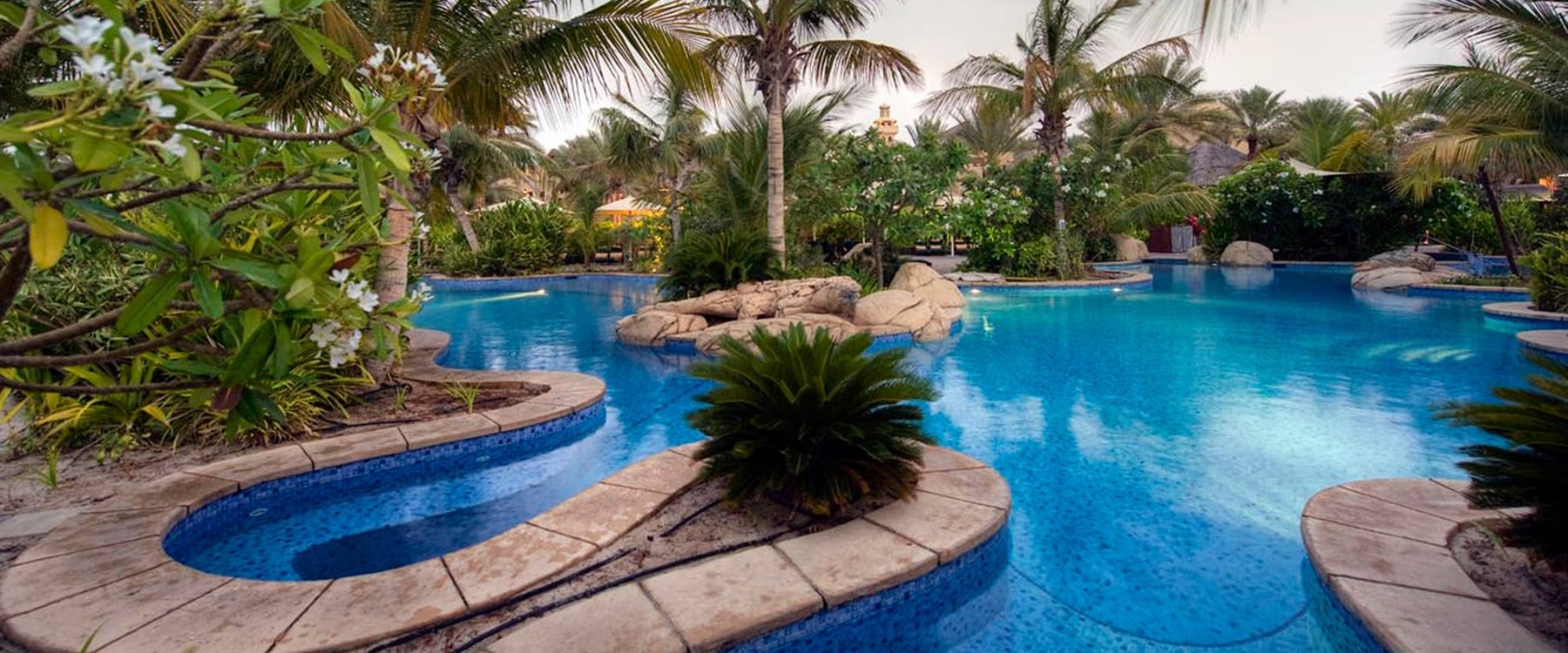 Executive Pool at Jumeirah Beach Hotel, Dubai
3/12
Beit al Bahar Exclusive Pool at Jumeirah Beach Hotel, Dubai
4/12
Ocean Blue Restaurant at Jumeirah Beach Hotel, Dubai
5/12
Uptown Bar Terrace at Jumeirah Beach Hotel, Dubai
6/12
Palm Court Lounge at Jumeirah Beach Hotel, Dubai
7/12
360 Bar and Lounge at Jumeirah Beach Hotel, Dubai
8/12
Waterfront Terrace at Jumeirah Beach Hotel, Dubai
9/12
Ocean Deluxe Room at Jumeirah Beach Hotel, Dubai
10/12
Superior Club Room at Jumeirah Beach Hotel, Dubai
11/12
Superior Balcony Room at Jumeirah Beach Hotel, Dubai
12/12
One Bedroom Royal Villa Terrace at Jumeirah Beach Hotel, Dubai
❮
❯
WE'LL CALL YOU
In under a minute